Rev. Dr. David King, pastor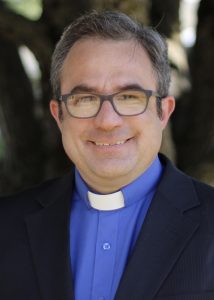 Pastor David was appointed to Forest Grove UMC in July 2020. He grew up in Banks, Oregon and later Salem, attending South Salem High School. He studied History and Music at Willamette University and completed his seminary education at Iliff School of Theology. He has pastored churches in Coos Bay and Hood River, Oregon, and in Denver and Hudson, Colorado. In 2019, he completed a doctorate in New Testament and Early Christianity at the Joint Ph.D. Program of the University of Denver and the Iliff School of Theology, and he still pursues research in biblical studies.
David is a musician and enjoys playing piano, guitar, and other instruments. Along with Rev. Jeff Lowery, he has composed a number of worship songs and has recorded two albums of sacred music.
Pastor David also serves as a chaplain in the Civil Air Patrol and enjoys cycling and kayaking.
He lives in Forest Grove with wife, Melissa Mimier King, and three children, Karthik, Kaylah, and Kiahla.
Noelle Voepel, administrative assistant
Noelle Voepel is the Administrative Assistant / Bookkeeper for Forest Grove UMC since 2016. She came to the United States at a young age with her large family, refugees from Vietnam. Her family was supported in their transition by a Church of the Brethren congregation. She grew up in the central valley of California. She graduated from a technical school with an emphasis in computers. She has over 20 years of experience as an administrative assistant in a church environment. Noelle currently lives in Hillsboro with her husband and son.
Rev. Rhoda Pittman Fuentes, deacon